LATEST NEWS
Due to college matches, our courts will be closed to regular play (both tennis and pickleball) on the following Sundays:
Feb 9
Feb 23
Mar 22
Mar 29
Apr 5
You are welcome to come watch the college matches.
Any questions, call the front desk at 507-474-6700 or email [email protected]
Anyone adults interested in tennis drills, Tom Sanvik is now coaching adult tennis drills every Thursday at 6:00 pm.  Contact Tom (507-452-6260) if you want to join the group.
WATA Junior Tennis is about to begin … sign up now to be part of it!
Fall 2019 and Winter 2020 session information is now available. Download the FLYER if you like.
Contact Monica Sanvik (507-450-7210 or [email protected]) or Tom Sanvik (507-452-6260 or [email protected]) for more information.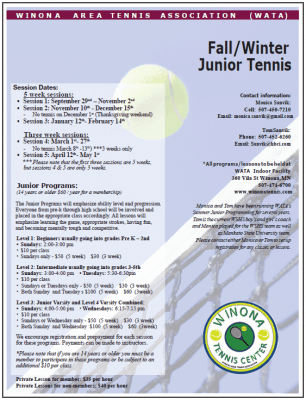 Welcome to the Winona Tennis Center! This is a premier indoor facility serving tennis and pickleball players from Winona, La Crosse and surrounding communities. The WTC features six newly resurfaced courts as of the fall 2018, as well as a beautifully updated mezzanine level that allows you to see all courts of play at the same time. We offer a variety of programming including private and group lessons or drills, recreational play, competitive (USTA) leagues, pickleball tournaments and more. The WTC can also be rented by high school and college teams for matches, practices, tennis camps, or tournaments.