WTC COVID Protocol 2021-2022
REMEMBER: Due to the extent of COVID-19 in Winona County, the Winona Tennis Center requires that everyone (regardless of your vaccination status) wear a mask in our common areas. These areas include the entry into the building, around the payment window, and all along the mezzanine above the courts. While playing on the courts, you do not need to wear a mask. But, please remember to put your mask on again when you leave the court.
LATEST NEWS
Matt Breza and Adam Archer worked hard last weekend to finish #2 in a tough Twin Cities pickleball tournament.
Congratulate them when you see them. Here's their celebration picture.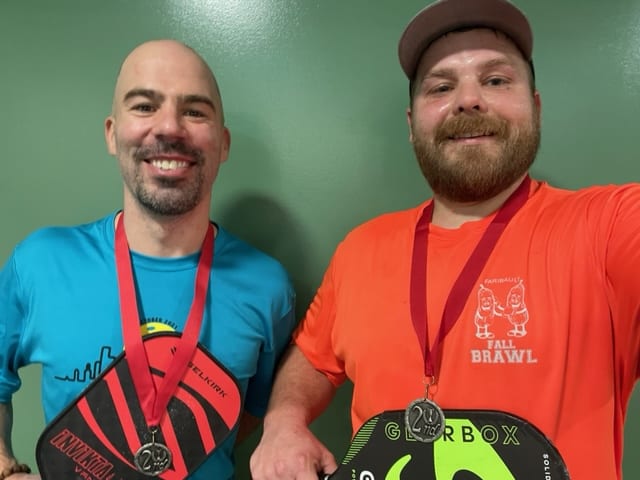 Well done, guys.
Starting this Saturday (Jan 15) …
Drop-in pickleball will start at 10:00 AM.
Join Monica Sanvik and Tom Sanvik in the 2022 Juniors Tennis program, starting Tuesday, January 9.
Play dates are Tuesdays, Wednesdays, and Sundays over 4 weeks.
Click here for brochure and consent form:   Junior Winter Flyer 2022
Winona Area Tennis Association … Our Story
The Winona Area Tennis Association has been part of the Winona community since December 1991. Our purpose is to provide opportunities for people of all ages to engage, enjoy, and build community through the lifelong sports of tennis and pickleball.
We support our members as well as local schools (students and parents alike). Whether you have been playing for years or are just getting started, we want to help you in your journey. We have a group of passionate professionals who provide youth group lessons, private lessons, adult drills, and innovative programming. The setting is the Winona Tennis Center, a state-of-the-art indoor facility that is truly one of Winona's hidden gems.
We are proud that Winona State University, Saint Mary's University, and Cotter High School have chosen the Winona Tennis Center as their tennis home. We are equally proud to host a number of college, high school, and youth tournaments, matches, and events. Above all, we're proud to make youth tennis affordable, accessible, and available to the next generation of players in one of the premier facilities in the Midwest.
Tennis is only part of the story. As the pickleball movement takes off nationally and locally, we are helping to lead the way with expert instruction and creative programs, connecting players of all ages to one of the fastest-growing sports in America.
Thank you for your interest in our club, our sports, and our passion. To learn more, we invite you to stop in for a quick tour and visit.
We are looking forward to seeing you on the courts!