WATA Junior Tennis is about to begin … sign up now to be part of it!
Fall 2019 and Winter 2020 session information is now available. Download the FLYER if you like.
Contact Monica Sanvik (507-450-7210 or [email protected]) or Tom Sanvik (507-452-6260 or [email protected]) for more information.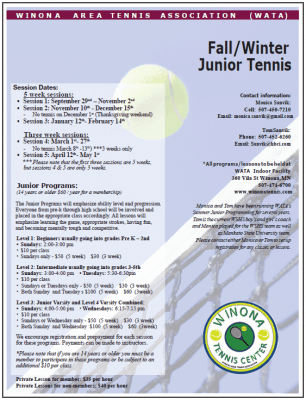 Registration has opened for the RIVER VALLEY PADDLE BATTLE Pickleball Tournament on March 7-8, 2020! Players from 8 states came to play in our last tournament and we are working to make it even bigger and better!! 3.0 – 5.0 men's, women's and mixed doubles are coming to play hard and have fun!!
Registration through February 15 will be $35 for one event, $10 for second event. Late registration on February 16 goes up $10, so $45 for one event and $10 for second event. The last day to register is February 29, midnight.
Go to our RVPB pickleball tournament page (click here) for more information and to get registered with your partner!!!